Did this idea come to me in the middle of the night? Yes. Does it need a lot of fine tuning? Also yes.
I've kind of combined the suggestions from Option #1 and Option #2 into my project proposal. I was torn between the two and wanted to find a way to explore them both and see what I can produce through this project.
Wise words are always helpful when getting started…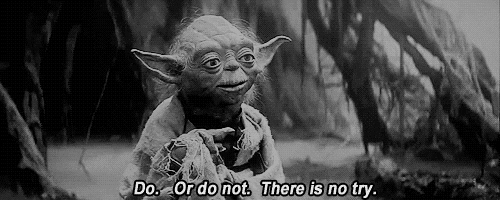 I want to develop a "Curriculum-Supported Digital Citizenship/Literacy Resource" while also venturing through "My Personal Journey into Media". I like what others have said in terms of using categories for the apps, I think this will help keep my project organized.
Educational Apps: I am hoping to find curricular connections for these apps (I'll be more specific about what these are after some more research) to be used in the classroom, specifically through English Language Arts.
Social Apps: I think it's imperative that I am informed and knowledgeable about the apps that my students are interested in, using consistently, and sharing their lives through. In order to talk about Digital Citizenship with my students, it's important that I have a basic foundation for these conversations.
Educational/Social Apps: I may be wrong, however I'm also feeling that these two categories are going to overlap and I'm looking forward to what I can do with that.
Educational Apps
— Google Classroom: 
I use Google Classroom a lot and our students are have a 1-1 device with the Chromebooks. Google Classroom is so much more than just having assignments online and I'm looking forward to seeing what I can do with this resource.  A while ago I bought "50 Things You Can Do With Google Classroom" by Alice Keeler and Libbi Miller (
sample PDF here
) and I'll be using this as a starting point.
— Literacy App??
— Writing Process App??
Social Apps
— Snapchat?
— Vsco?
— Fitness Apps?
**Obviously, I'll be looking into this more and very much using the suggestions of my students to help me better frame this section.